business system analysis
Business Systems Analysis (BSA) is the art of aiding businesses in achieving their strategic goals. We do this through identifying the organization's strengths and weaknesses and making internal changes to organizational capabilities, including changes to policies, processes, and information systems. We utilize the Systems Development Life Cycle (SDLC), or Software Development Life Cycle as indicated here: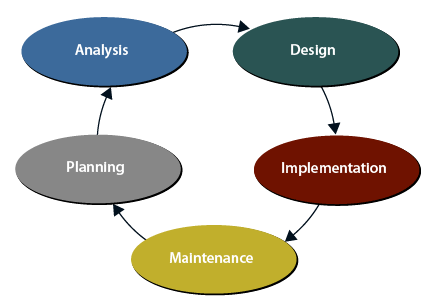 Ultimately, as your BSA, we'll help you achieve the following results:
Reduced costs
Completed projects - on time and on budget
Improved efficiencies
Documented requirements
DS Consulting Services provides:
ENTERPRISE ANALYSIS through focusing on understanding the needs of your business as a whole, its strategic direction, and identifying initiatives that will allow your business to meet those strategic goals.
REQUIREMENTS PLANNING AND MANAGEMENT involves determining which requirements are the highest priority for your implementation and managing change.
REQUIREMENTS DEFINITION involves collecting requirements through facilitation and research to meet your business needs.
REQUIREMENTS ANALYSIS involves developing and specifying requirements in enough detail to allow them to be successfully implemented by a project team.
REQUIREMENTS COMMUNICATION involves ensuring that stakeholders have a shared understanding of the requirements and how they will be implemented.
SOLUTION ASSESSMENT AND VALIDATION will verify the correctness of a proposed solution, how to support the implementation of that solution, and identify gaps, if any.
CALL DS CONSULTING SERVICES TODAY
TO IMPROVE YOUR BOTTOM LINE TOMORROW
866-376-1582